Cliff Jumping at Canyon Lake, Texas : Texas Hill Country Day Trip
One thing I am really in love with is the abundance of clear cool water that the Texas Hill Country has to offer. I'm always up to explore new and deep waters but some spots are so good that our family keeps going back over and over again. Canyon Lake is one that keeps calling us back. The landscape around the lake is pristine and represents the Texas Hill Country well with deep canyons and stunning peaks. The water is clear and blue and many of the banks are lined with beautiful rock formations, some of the rock formations being very tall. Tall rock formations in combination with deep blue water is a recipe for adventure and wild fun, right? Well, that's what we think!
Canyon Lake in Texas offers a variety of recreational activities all around its shores. It is less than an hours drive for us from Boerne and it is near to Austin and San Antonio. Canyon Lake Dam was approved by Congress in the early 1950's to provide flood control and water conservation. It is estimated to have saved millions of dollars in flood damage to thousands of acres downstream from the dam. Canyon Lake is managed by the US Army Corps of Engineers and their website details all of the public parks available along the banks of Canyon Lake, it's history, available recreation activities at the lake, conservation efforts and more. Check them out here for year-round and up to date information at the lake.
Out of the nine parks managed by the Corp of Engineers at Canyon Lake, we always seem to return to Comal Park. The swimming holes are deep, the fish are abundant, the cliffs are tall and the water is cool. Each park at Canyon Lake offers different individual amenities and Comal Park is a day use only park. Other parks do offer overnight camping, RV hookups, water, and electricity. At Comal Park, it is $5 to get in and you can stay until sunset or 8:30, whichever comes first. They offer charcoal BBQ grills, a boat ramp, a sand beach for really small children, picnic tables and restrooms.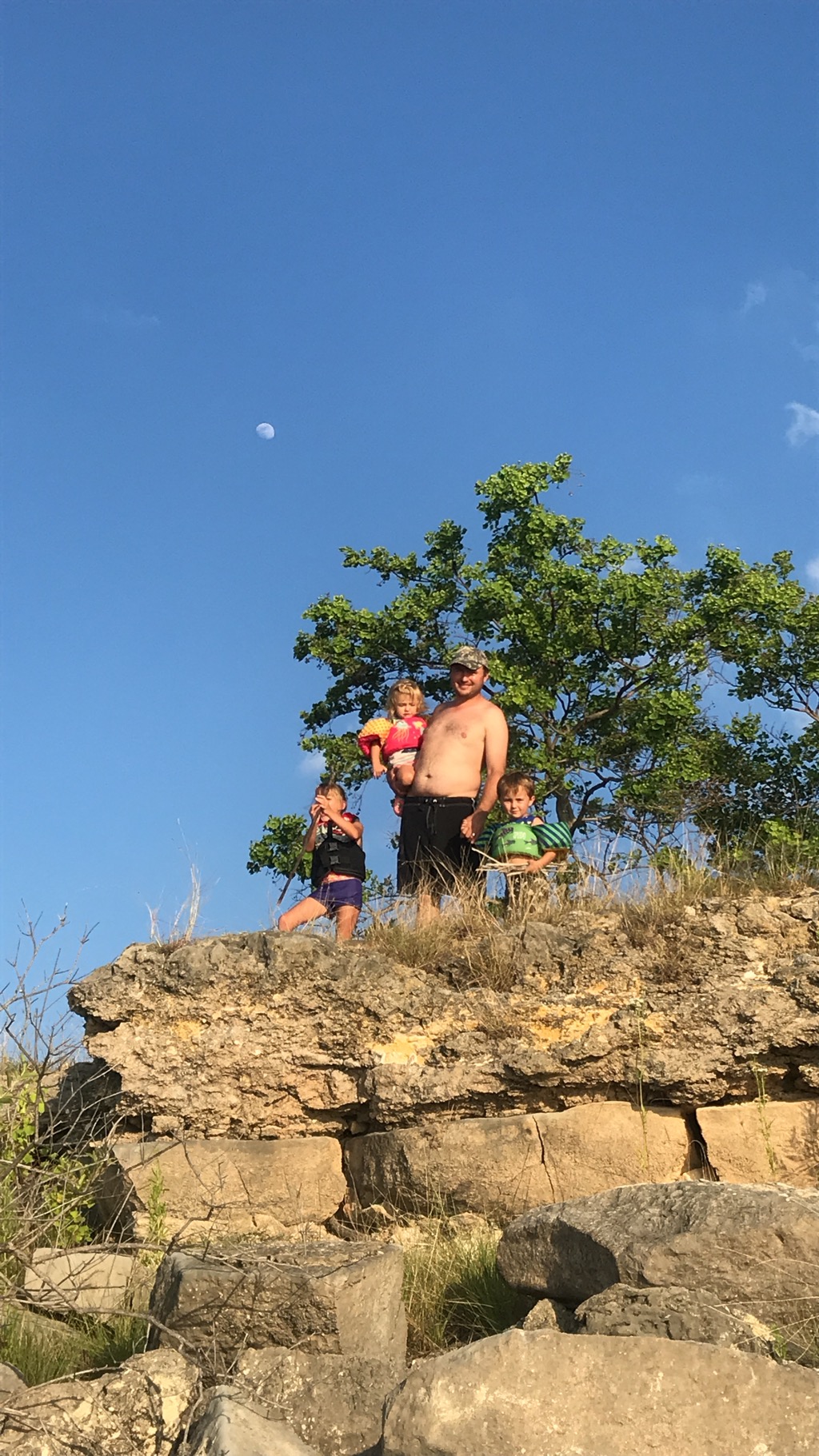 We usually head out to the lake after Saturday chores and errands, bring some hot dogs with us to grill and make an evening of it. Sunset at the lake is beautiful and totally worth getting the kids to bed late for. Our favorite things to do at the lake are cliff jumping, snorkeling and seeing fish, rock climbing, floating, and exploring. It is easy to walk up to one of the stationary charcoal grills provided by the park, throw on some hot dogs, feed everyone and get back to the action. We usually find ourselves having so much fun we stay until the park closes when the crowds have moved out and the water and the park is peaceful and calm. There is so much to do that everyone ends up leaving tired and bedtime is no issue.
There are plenty of recreational options to choose when visiting the lake. If your looking to do more than swimming or camping there are several marinas and other businesses around the lake offering boat and jet ski rentals, paddle board rentals, fishing tours, overnight accommodations and even jetpack rentals! Here are some options to look into if you're planning a trip to Canyon Lake...
Canyon Lake Chamber of Commerce
This lake offers adventures from it's shores that most lakes cannot. Canyon Lake is a beautiful extension of the Guadalupe river that we call our home, the same waters run through it so it's no wonder we love it so much. What's your favorite lake to visit and explore?